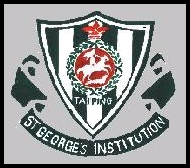 FAMOUS OLD PUPILS
---
Ng Kam Poh, Dr J.P.
Member of the Parliament 1965; Assistant Minister of Finance
July 1965 later Minister of Health. He was the Minister of
Welfare Services just before general elections in May 1969
when he lost his Parlimentary seat.

Toh Chin Chye, Dr

Minister of Science and Technology, Singapore.

Saw Chin Bee, James

Teacher, Group Scoutmaster 1st Taiping, presently a priest.

Xavier, Francis A

Founder member Red Cross, Perak. Teacher, Asst District Scout
Commisioner Ipoh 1953-54; Wood Badge Holder.

Yeap Kee Aik, Datuk PDK, JMN
Lawyer; Previously Home and Foreign Service, Malaysia; Resigned
from Govt. in post of Permanent Secretary, Ministry of Labour 1967.

Yong, Rt Rev Gregory, D.D. , D.C.L.
Presently Archbishop of a Diocese.

Ang Kok Peng Dr.
Dean of Faculty of Science in the University of Singapore. Elected
member of the Singapore Legislative Assembly. He has been the
Ambassador of Singapre on Japan for 3 years for February 1971.
Minister of State for communication - Singapore.

Chan Soon Cheong, Rt. Rev James
Clerk in St.Georges Inst. Taiping 1948-49; Became priest, then
Bishop and now Archbishop of Singapore.

Finian Ambrose, Very Rev Bro.
Was visitor of Christian Brothers for Malaysia and HK until 1972.

Goh Bean Sim, LL.B (Hons)
Vice Chairman MCA Sungai Petani, Kedah Division. Legal Advisor
to several associations and unions.

Goh Chok Sam Y.B.
Was Political Chairman MCA Perak.

Ismail Khan b Ibrahim Khan, Chief Justice, Datuk
First Chief Justice of the High Courts in Borneo States, was
Judge for Negri Sembilan and Malacca, Awarded Distinguished
Service Medal. Now residing in Seremban.

Liew Kooi Sen, Datuk Dr. John
Dental Surgeon; Govt. Service 1954-57; Awarded PJK and
Datuk Kurnia Ihkwan in 1973.

Manecksha Rustim, KMN , JP
Merchant and Landed Proprietor, Founder Member MIC Taiping and
President since 1967. Director of Election Larut Selatan 1969
(Alliance), Member of Town Board, Visiting Justice a,
Hospital and Prisons Taiping, Member Licensing Board.

Markandan, Paul
Marketing & PR Consultants (Asia) Sdn Bhd KL; Author ' Report
on Finance, Commerce and Industry - Malaya' (1960); " The
Problem of New Villages in Malaya' (1955), Media Studies
in the Far East (1962)

Ong H.T. Chief Justice Tan Sri, PSM, LL.B
Queen Scholar 1931; Govt. Service- Federal Counsel, KL,
Federal Judge.

Ang Chin Wah
Vice president of Gerakan Party.

Chung Kim Loon - JP
Active Service 1942-45; war Rank Corp/A. Sgt. Chairman

Fernandez, Peter Joseph
ASP after serving various dept.s of Police in
Perak, Penang and Pahang.

Lim Eng Chuan
Teacher, served in Board of SGI.

Menon, K.D.
Federal Govt. Service.

Ng Eng Teik , Dr -MBBS
Private Practitioner.

Ong Chee Suan AMN, PPM
Town Councilor Taiping 1965, Tresurer for 20 years of
Central Welfare Council, MCA.

Yeap Kee Aik Datuk, SPDK, JMN
Federal Secretary Sabah & Regional Principal, Officer
East Malaysia.

Beh Cheng Chuah
Benefactor of SGI.

Ong Sim Keat , Dr
Private Practitioner, Board of Governors of SGi.

Mohan Swami, Dr
Entrepreneur, Managing Director Chase Perdana Bhd.

---
This page is created by Georgians
Home