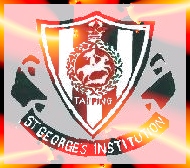 ---
WELCOME AND SELAMAT DATANG












THE OFFICIAL HOMEPAGE
---
1999
A new resolution for a new year. It is up to all the
Georgians and Georgianas of today
to prove the Georgian spirit.



Therefore, we
Welcome you to the Web Site of St George's Institution of Taiping, Perak. This is a La Salle Brothers' School.
Click On the frame beside this page
to tour our school's homepage.


YOU ARE VISITOR NO-

updated by :TAN LIAN TENG
21/3/99